Malahit Software Defined Radio
23rd December 2020
The Malahit (Malachite) SDR is a very compact radio hosted in a case only 100×74×27mm in size.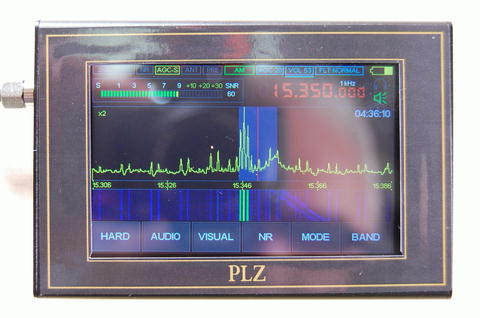 The version I've bought is manufactured in China but the design originated from Russia. The schematic is almost identical to the original except some PCB connectors (J5 & J7). The RF front-end is minimal, just a wideband pre-amp (BGA614) and some LC Π filters (0-12MHz-30MHz-60MHz-120MHz-250MHz-1GHz-2GHz) to separate the huge frequency range. An optional board with better filtration and another narrower pre-amp for the HF bands can be connected via J7 and is inserted in front of the antenna connector. On this chinese clone the Vbat signal is missing so you need to connect it from elsewhere (and there isn't sufficient space inside the case for another PCB anyways).
A few things that I dislike on this SDR:
the touchscreen is resistive, imprecise and it struggles to register presses
the encoder wheels often skip increments (not sure if it's the software or the encoders)
the 22MHz oscillator frequency drifts especially after power on
the speaker is on the back so you cannot lay the

SDR

on a desk because the sound will be completely muffled
Even with the above annoyances I think it is an excellent deal to get a portable SDR in an aluminum case for just 82$ delivered.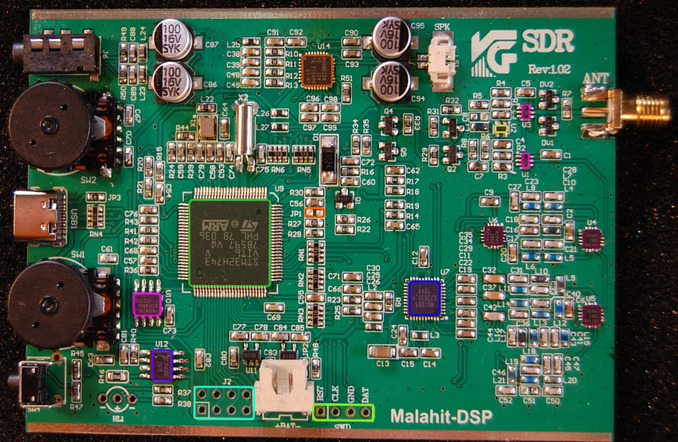 To program a new firmware in DFU mode you can follow the instructions from this translated manual
I prefer to use the SWD port directly. For this you need a STLinkv2 programmer. The SWD connector on the board misses the 3V3 signal but you can get that from the common anode dual LED (near TP4056 charger which is not soldered). The 3V3 is needed to detect the Vtarget presence. If you use a STLinkv2 clone (the USB stick shaped one) you won't have the Reset signal available (the one labeled RST is from the SWIM interface). Reset is available on port PB0 (pin18 of STM32F103) inside the programmer. Without Reset you'll have some trouble halting the STM32H7.
Convert the DFU or iHEX files to binary. To obtain the flash binary file first remove the RAM fill region and start address which are not part of this image. Then

openocd -f interface/stlink-v2.cfg -f target/stm32h7x.cfg

Open a telnet console on port 4444 an use the flash read_bank to make a backup then flash erase_address followed by flash write_bank on bank 0 to program your new firmware.
The firmware for this radio (latest version as of today is 1_0f) needs to be first activated.
The registration code is an 8 byte hash of the CPU signature ID (12 bytes).
This hash is then stored at (word) locations 0x7E & 0x7F in the SPI F-RAM (FM25W256) and compared every time the radio is started.
To unlock (activate) your Malahit SDR firmware please enter the CPU ID code
Use this format xxxx-xxxx-xxxx-xxxx-xxxx-xxxx (where x are hex nibbles)